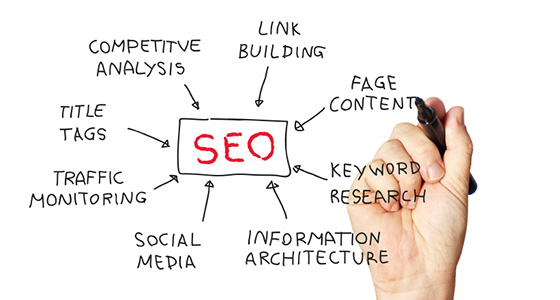 Search Engine Optimization Services
Search Engine Optimization, or commonly referred to by its acronym, SEO, is the practice of crossing your t's and dotting your i's in the web world. Well, it's not really that simple, but search engine optimization involves making sure your website is seen by the search engines as an authoritative source of information for a certain keyword or keyword phrase. When someone types a search query into a search engine, a list of results is returned to them. The first result is seen as the most authoritative source of information for that phrase, so it is being delivered to the user first.
Well, that's great, but how do the search engines judge if a site is an "authoritative source of content" for a particular phrase? Search engines use a multitude of different criteria to judge this. Not all search engines use the same criteria, so it get's a little tricky.  It's up to an SEO Company to keep up on all these search engine algorithms, and ensure your website complies. Elite Web STL studies these criteria and knows and understands how to make your website rank well vs your competitors. Having relative content about a certain topic, with proper title tags, meta data, and keywords present is a start, but it goes much more beyond this.
Keyword Analysis

The right keywords to bring you qualified traffic

Speed Optimization

Fast site loading times to improve website rankings

On page SEO

Thorough implemention of top seo practices

Backlinking

Get relevant, valuable links to your website
Content Strategy

Proper structure and website verbiage deployment

Updated Code

HTML5 and CSS3 websites - fully html compliant

Blogging and Copywriting

Get blog updates and website content written with seo in mind

Local Business Listings

Get listed the top business directories
Get professional search engine optimization services today!
Increase your websites rankings to gain more exposure online and earn more business